CropConnect Conference 2022 – Sponsors Registration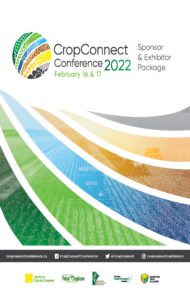 Thank you to the 2020 CropConnect Sponsors.
Whether yours is a large or a small company, this event is a prime business opportunity. Consider how you could increase your visibility among the sunflower, corn, pulse and soybean, seed, wheat and barley, flax, oats and canola sectors of Manitoba's vibrant agriculture industry.
The CropConnect Conference is filled with inspiring keynote speakers and a collection of informative concurrent sessions that promise to be innovative and thought-provoking, ensuring participants receive ample opportunity to learn and grow their businesses. The event will also include five provincial commodity organizations' Annual General Meetings.
View Sponsor & Exhibitor Package Exhibitor Floor Plan
---
For Sponsorship and Exhibitor Opportunities please contact Elena Gagliardi at elena@plannersplus.ca
Sponsorship Registration
Sponsorship registration opens TBD
Attendee and Banquet Ticket Registration Opens TBD
Sponsorship Registration Link
---
Exhibitor Information for Gold and Bronze Sponsors
Booth set up times
Booth set up times: Tuesday, February 15, 2022, 1:00 p.m. – 6:00 p.m.
Booth removal time: Thursday, February 17, 2022, 4:20 p.m. – 6:30 p.m.
* Exhibitors can begin display removal after the last tradeshow break on February 17 at 4:20 p.m. Any booths not removed by 6:30 p.m. will be dismantled and stored by Central Display at the cost of the exhibitor. Exhibitors must contact Central Display directly for the return of their displays. Dismantling of the displays prior to the official removal time is not permitted.
---
Terms and Conditions
Additional items and costs:
For additional chairs, tables and furnishings, please contact Central Display directly at (204) 237-3367 to place your order. Please see below for the Central Display Information Form, or visit www.centraldisplay.ca to obtain you're exhibitor package.
Central Display Information Package
Download Central Display Information Form
Door prizes:
Door prizes are welcome at CropConnect exhibitors' booths. Please note that it is the exhibitor's responsibility to contact door prize winners from your booth.
Payment:
Full payment must accompany registration submitted through our online registration system. Registrations will be honoured on the date it was processed.
For payment by cheque, please make payable to:  CropConnect Conference
Cheques can be mailed to:
Planners Plus Inc.
500-167 Lombard Avenue
Winnipeg, MB R3B 0V3
Refund Policy
All refunds are subject to a 25% holdback. Please refer to the confirmation of registration email for complete details. The deadline to receive a partial refund is Friday, January 14, 2022. Attendees and booth exhibitors can contact info@cropconnectconference.ca for refund information.
Sponsorship Registration Link
For Sponsorship and Exhibitor Opportunities please contact Elena Gagliardi at elena@plannersplus.ca
---