CropConnect Conference 2018 – Sponsorship Registration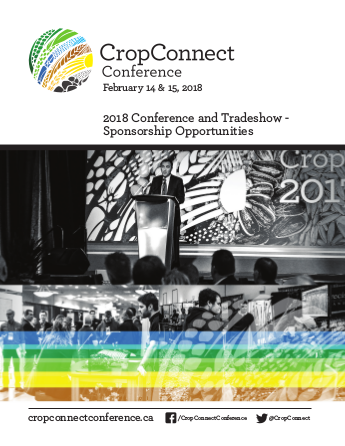 Thank you to the 2017 CropConnect Sponsors.
Whether yours is a large or a small company, this event is a prime business opportunity. Consider how you could increase your visibility among the sunflower, corn, pulse and soybean, seed, wheat and barley, flax, oats and canola sectors of Manitoba's vibrant agriculture industry.
The CropConnect Conference is filled with inspiring keynote speakers and a collection of informative concurrent sessions that promise to be innovative and thought-provoking, ensuring participants receive ample opportunity to learn and grow their businesses. The event will also include eight provincial commodity organizations' Annual General Meetings.
Click here to review the 2018 sponsorship opportunities and plan to attend the 2018 CropConnect Conference. The 2018 CropConnect sponsorship opportunities
will be available for purchase from Tuesday, October 10, 2017 to January 19, 2018.
Download the 2018 Sponsorship Package
Sponsorship Registration
Sponsorship registration opens Tuesday, October 10, 2017
Early bird registration is available from October 10 to December 8, 2017
Regular registration is available from December 9, 2017 to January 19, 2018
Questions? Please contact Elena Gagliardi, Planners Plus Inc., at elena@plannersplus.ca